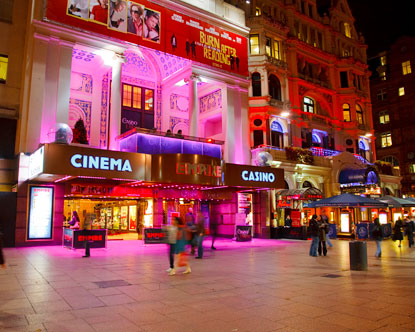 London truly is a city that offers something to everyone. Famed English thinker and writer Samuel Johnson once said – "the only person bored in London is a boring person." The city offers up so much variety that this statement holds true in many a way. Visitors can enjoy dynamic night life in Soho only to head the next day to Notting Hill and Kensington for some upper class shopping. Options are not limited here and some more of the varied neighbourhoods of London are.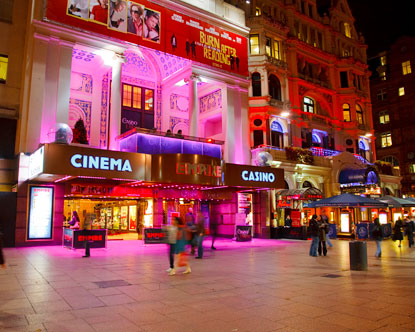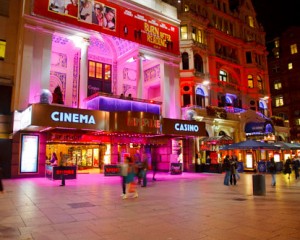 Leicester Square
Leicester Square is right nestled in the heart of theatre district with cinemas and night clubs flanking the theatres in a large cobble stoned square. Always a hub of activity day and night the square is packed with every type of person you could imagine and is one of the world's best people watching locations. Savvy travelers looking to take in a show will find there way to Official London Half-Price Theatre Ticket Booth (TKTS), where it is possible to get great prices on nearby shows. If you're looking for something to eat a few blocks away China town has a plenty of vibrant eateries.
Soho
Just to the north of Leicester Square is one of London's most fascinating and infamous locations Soho. Formerly the city's Red Light District visages of that existence to still remain. Definitely one of the best places for going out in London there are numerous trendy nightclubs, restaurants, and boutiques. Also find several gay and gay friendly bars and clubs in Soho as well. Stay vigilant in side streets there are still a lot of drug dealing and prostitution going on.
Piccadilly Circus 
Compared to New York's Time Square Piccadilly Circus is always a hub of neon lights and activity. There is a lot of shopping and restaurants and bars around this area. Be warned though that as this is a known tourist area hotel and other costs are often inflated.
Royal London 
One of the central boroughs of the city Royalty, lawmakers, and ecclesiastical leaders all converse in Royal London, as its nicknamed. Some of the most iconic sites of the city are hear including Trafalgar Square, the House of Parliament, Westminster Abbey, and Big Ben. Wandering a different direction out of Trafalgar Square will lead you to the gates of Buckingham Palace the primary residence of Queen Elizabeth.
Bloomsbury
Bloomsbury which is located right near Temple tube station is the centre of the London legal district. Miraculously missed by the great fire of London in 1666 there are numerous legal buildings and court houses. Also, wander into a court room to see the traditional English law practised complete with barristers and judges in wigs and robes.