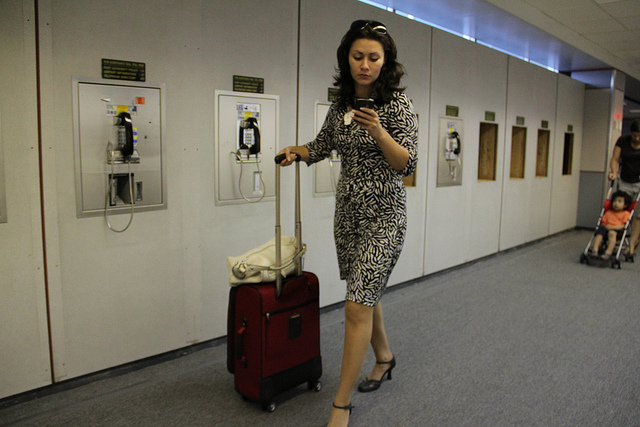 You've packed your things, rounded up the kids, remembered your passport and driven to the airport filled with anticipation for your mega holiday in the sun – now it's time for the long wait at the airport.
While they're necessary if you want to lounge in some far-flung location, airports are some of the most boring locations on the planet. In fact, a high number of people regard flight travel as more stressful than moving house.
This stress and boredom are heightened when you've got kids in tow. Sprogs become fidgety, tired and agitated – unless you come prepared.
So what can you do to reduce the mounting pressure of a trip to the airport?
Be greeted at your terminal
If there's one thing guaranteed to make your blood boil, it's trying to find a parking spot amongst the labyrinthine multi-storey car parks that populate airports. Hunting a spot near your terminal feels like a trial that even Hercules couldn't manage.
Which is why some airports have devised workarounds for those willing to pay a little extra. Meet and greet parking at Stansted, for instance, will pick up your vehicle at your terminal and drive it to a safe location awaiting your return.
It's an option that's safer than a standard car park and less stress-inducing than finding a space of your own. So give it a go.
The right airport
Airports don't have to be blander than a middle manager hosting a PowerPoint presentation. Some are cool enough to be holidays in themselves!
Wellington Airport, New Zealand, features a giant Gollum statue to commemorate the filming of the Lord of the Rings in the small country. Others capture the eye by containing well-stocked art galleries. Many are arguably works of art in themselves.
Before you book a flight, find out if the airport you're visiting has anything that will hold your attention. You'll be able to enjoy a spot of sight-seeing before you even board your flight.
Go VIP
Standard departure lounges are about as exciting as watching paint dry on a particularly bland slab of drywall. Aside from a Costa Coffee and a Wetherspoon's you'll have little to do beyond the pastimes you bring.
However, most large airports will offer the option of VIP departure lounges that will give you first-class treatment while you wait for your plane.
These include free Wi-Fi, luxury seating, widescreen tellies and videogames to occupy your kids. The cream of the crop will even provide complementary snacks and drinks, so you can luxuriate in your wait.
---
Image Courtesy to MattHurst