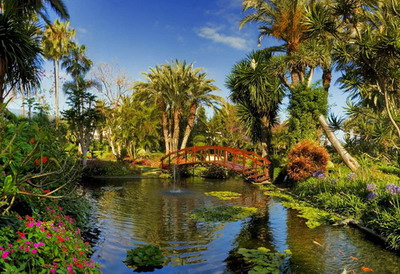 The Canary Islands are real holiday hotspots – and I think their popularity is well deserved. Having glorious weather, great scenery and delicious cuisine, they've definitely got a lot of offer those of us looking for a little rest and relaxation. Plus, they boast some truly luxurious hotels – and it's these I'll be talking about today.
Abama Golf & Spa Resort
Where: Tenerife
One of the most exclusive hotels in the Canary Islands is the Abama Golf & Spa Resort, which you'll find in Guia de Isora in Tenerife. One of my favourite things about this place is its location; perched on a cliff, it boasts great sea views, while it's also close to the lovely little village of Playa San Juan.
It's also a terrific place for foodies, since it's home to not one but two Michelin-starred restaurants – Abama Kabuki (Japanese cuisine) and M. B. Restaurant, which uses fresh ingredients from the Basque region.
But this hotel is about more than great food – it goes all-out in terms of luxury. For instance, as I'm sure you'll have guessed from its name, it is home to a golf course and a luxurious spa, while it also gives you direct access to a gorgeous beach.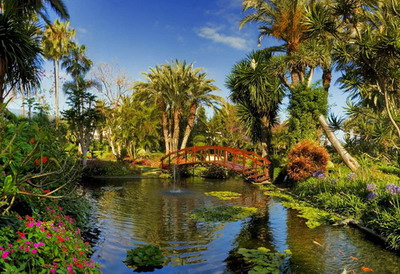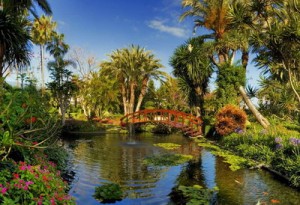 Hotel Botanico
Where: Tenerife
Next up is Hotel Botanico, which is just over a kilometre outside the cosmopolitan resort of Puerto de la Cruz (on Tenerife's north coast). If you're after an exclusive hotel, this place is a fantastic choice as it has lots of ultra-lavish touches which, I think, make it stand out from the crowd.
For example, its hilltop location gives it great sea views – you can see all the way out to Mount Teide – and it's home to the wonderful Oriental Spa Garden. Here, you can be seriously pampered in stunning surroundings.
Gran Hotel Roca Nivaria
Where: Tenerife
As you can probably tell by this point, Tenerife is where you'll find a lot of the best hotels in the Canaries. I promise I've looked elsewhere for my final suggestion, but I couldn't resist adding the Gran Hotel Roca Nivaria to my list.
This establishment is located in Playa Paraiso and has direct access to a lovely beach, as well as impressive views out to neighbouring island La Gomera. Since it has kids' clubs for children aged from ten months to 14 years, the hotel is a good choice for parents who are planning a family holiday but don't want to compromise on quality and luxury.
Hotel Volcan Lanzarote
Where: Lanzarote
Now we'll leave Tenerife behind (though you can check out more of the island's top hotels at Sovereign) and take a quick peek at what Lanzarote has to offer. For me, this is one of the most fascinating of the Canaries, largely thanks to its volcanic landscape, which really does look otherworldly in places.
Over at Playa Blanca you'll find one of the island's most luxurious hotels, the Hotel Volcan Lanzarote. What's interesting about this place as that it has been designed to reflect the island as a whole; for instance, when you wander around the resort you'll notice little 'town squares' and waterfalls, while the entrance resembles a traditional church.
Within the complex there are swimming pools, a health spa and a wide range of sports facilities (tennis, sailing and table tennis, to name a few), while the lovely Marina Rubicon is just moments away. As well as being scenic, this is home to lots of great restaurants, making it a brilliant spot for an evening out.