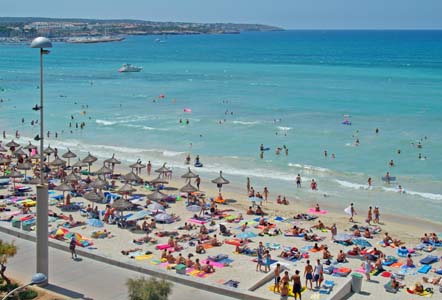 Sometimes I really need to escape from it all, but quite often financial and work commitments get in the way. However, one place that is not only affordable, but also just a short flight from the UK, is the Spanish island of Majorca.Within a few hours I can be lying around the pool with a cocktail in my hand, or finally getting to read the book I've been meaning to on one of Majorca's many white sand beaches. In fact, its stretches of sand are one of the top attractions on the island. Not only are they beautiful, but it means you don't have to spend very much on holiday here.Of course, there are lots of bars and restaurants close to the beaches where you can seek solace from the sun and enjoy some tasty local cuisine and a refreshing drink. However, pack plenty of bottled water and snacks and keep them out of the sun and you won't need to spend a penny during your time at the beach.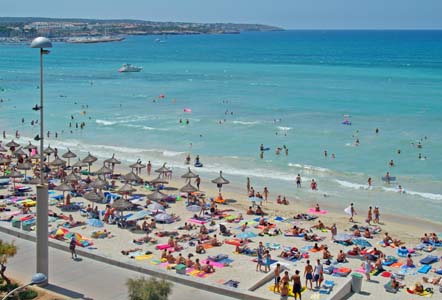 I've stayed in Palma Nova before, and Playa de Palma Beach was an expansive stretch of white sand with calm waters, which were brilliant for floating on my rubber ring and taking a dip when the Spanish sun got a little bit too much for me.
Peguera is also a fantastic place to book a holiday to Majorca, such as those found here, and Peguera Palmira Beach is a stretch of sand that is popular with visitors thanks to it enjoying similar dazzling sand and gentle waves. In total, the island has 15 pebble beaches, 21 rock, 13 made up of gravel and 158 sand beaches, so you'll easily find a secluded spot to lay down your towel.
Another top attraction in the Spanish destination is the Cabrera Archipelago National Park, which spans more than 10 hectares and is home to an array of flora and fauna. My top tip for arranging a cheap excursion here is to walk through the centre of the place you're staying and see which vendors offer the best deals. You need to head to one of two ports before taking an hour-long boat ride to reach the national park, so it's well worth going on an organised tour, rather than paying to do it yourself.
You can walk across the stunning landscape up to the 14th-century castle, spotting the different types of birds that call this green space home. In 1991, Cabrera was designated a National Marine and Land Park thanks to its abundance of wildlife, including large Neptune grass meadows that have boosted the number of creatures that live in the surrounding waters.
Palma is one of the most popular places to stay on the island, and the city has lots of different attractions, from golf courses and museums to galleries and historical buildings. I've been here before and there really is something for everyone.
Its cathedral is a beautiful building and it costs just a couple of euros to enter, while kids can explore for free, so it won't dent your holiday budget. Dating from the 14th century, Palma Cathedral looks over the old town (which you should also make the time to visit) and is made up of three naves, with the main one where the Trinidad chapel is located.
If you're something of an architecture fan, you might spot the work that Antonio Gaudi did to the building at the start of the 20th century. His style certainly stands out, so make sure you look out for it.