Berlin is a city that is made for parties. Plenty of abandon space in the former Communist eastern side of the city has been reconverted into wild clubs. All of this combines with a young population and an everything goes style to partying… If your style of party includes being inside a club that is open 24-7 for 3 street days, well you are in the right city to indulge in that. Hedonism and Berlin go hand and hand. Some of the best clubs to party in Berlin are.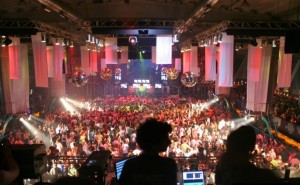 Berghain 
Berghain epitomizes Berlin's hedonism. This is a club that has a three day long run without closing pounding out house, techno, and dub step riffs. The inside is a kind of industrial wasteland of steel and concrete all housed in a former power station. The massive high ceiling main room plays pounding house and dub step. While the smaller Panorama bar plays lighter chill out and house and tech explorations.
Bar 25 
Located on the river Spree Bar 25 for all intents and purposes is a playground for adults. Defying the usual warehouse Berlin look the main dance floors actually has a tropical theme with a beach-shack style. Since the owner lives on site, he chooses when the bar closes which often pushes deep into the next day. Need to sleep and eat, but want to keep partying – there is a restaurant and hotel, or more accurately "rooms" you can rent, at the club.
Watergate
Watergate has an ultra modern futuristic interior with LED light displays beaming across the dance floor. Funktion one sound system brings hard some of the most pounding beats in the city. Watergate is known for fantastic booking of electronic talent and great resident DJs like M.A.N.D.Y.  Located on the banks of the River Spree the outside terrace is a scenic spot to take a reprieve for partying if just for a bit.
Tape Club
A relative newcomer to the Berlin party scene Tape has made for itself with some fantastic house and techno that appeals to electronic purest. The upstairs bar is golden themed while the downstairs main room is dark and slick with a large art tree in the middle of the floor. Every few weeks an art event is hosted in the club called Tape Modern.
Golden Gate
Golden Gate it a difficult club to find, once you have found it though you may not be leaving for 2-3 days as the parties go that long. This is a place to dress down and it is basically a collection of shoddy rooms, some of the chill out rooms with second hand furniture, all brought together by the omnipresent banging sound system.