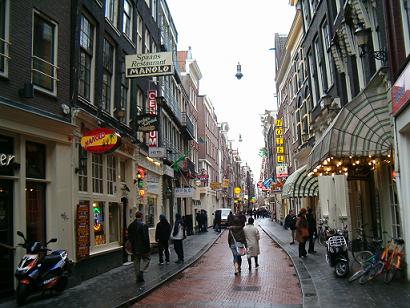 Amsterdam the beautiful city often called the Paris of the North is a city not only made up of thousands of canals, but also several different neighbourhoods. Reflecting different peoples and ethos the neighbourhoods of Amsterdam, if your trip affords you the time to do it, is definitely a worth while pursuit to be had. These and other neighbourhoods in Amsterdam include.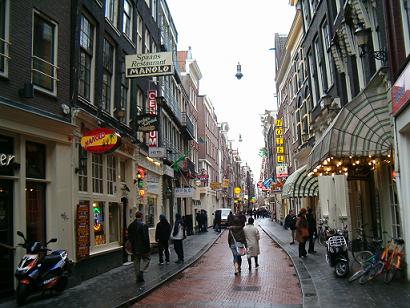 Centrum 
Centrum refers to the area of the city considered to be the centre. Filled with a variety of old buildings and sites the centre is the place found first by tourists when they exit Amsterdam's central station. Infamously housed in this part of the city is the Red Light District complete with its legal, but still seedy attractions. Warmoesstraat is where many a tourist end up as it is filled with bars, coffee shops, hostels, and sex shops and is still just a stones throw from the red light district. Beyond the red light district the centrum also has some of the oldest buildings in Amsterdam including Oude and Niuew Kerk (the old and new church), the royal palace of Amsterdam and Amsterdam's Historical Museum.
Leidseplein 
To the south east of the Cenrum is Leidseplein an area of town filled with varied entertainment. Some of the best spots for entertainment in this thriving part of town are coffee shops like the De Rokerij, Jimmy Woo's nightclub, and De Stadsschouwburg theatre. This is the hub for Dutch people going out on the weekends to eat, drink and be merry. Nearby as well as the lovely Vondel Park an area that has long been used by the Dutch to relax in.
Rembrandtplein 
The name sake of this square Rembrandt van Rijn has his bronze statue in this a popular grassed in square flanked by cafes, bars, and restaurants. Located about a kilometre and a half from the city core Rembrandtplein is a welcome refuge from the usually pulsing centre. The Reguliersdwarssastraat is a street on the south west of the square that a number of gay bars and clubs cluster.
De Pijp 
Traditionally working neighbourhoods in Amsterdam, in recent times De Pijp has become trendier. Within this district is the Heineken Experience, a four story interactive museum, located in the previous Heineken Brewery. The Albert Cuyp Market, which sells all sorts of foods, personal effects, clothes, and other various items, is also in De Pijp and provides visitors a chance to see some more authentic Amsterdam life.