May is an interesting month for travel. It's not quite summer and not quite spring, meaning you occasionally get the brilliant weather of the summer but with far fewer crowds. Nature is generally out in full bloom in May and as such, there are a host of fabulous late spring festivals to enjoy from around the world. Of course, if you're visiting the southern hemisphere May is when the weather starts turning a bit chilly (as it is their autumn) but there is still no shortage of great things to see and do.
Take a look at the infographic put together from Flight Centre showing some of the different highlights from the travel world in May. Whether you're interested in the beauty of the Chelsea Flower Show in London, England or the Bluff Oyster and Food Festival in Bluff, New Zealand, May affords plenty of opportunities to sample the local flavour and take in the sights of a festival. These only come around once a year so be sure to act quickly – others are sure to have the same great idea!
If you enjoy feeling the pulse of the crowd when you travel but aren't overly keen on the intense heat that comes from the summer festival season, taking part in a May festival may be just what you need. These gatherings make for a great basis for a trip or to accent an already jam packed itinerary with a touch of local culture you won't find anywhere else. It's going to be the best May ever!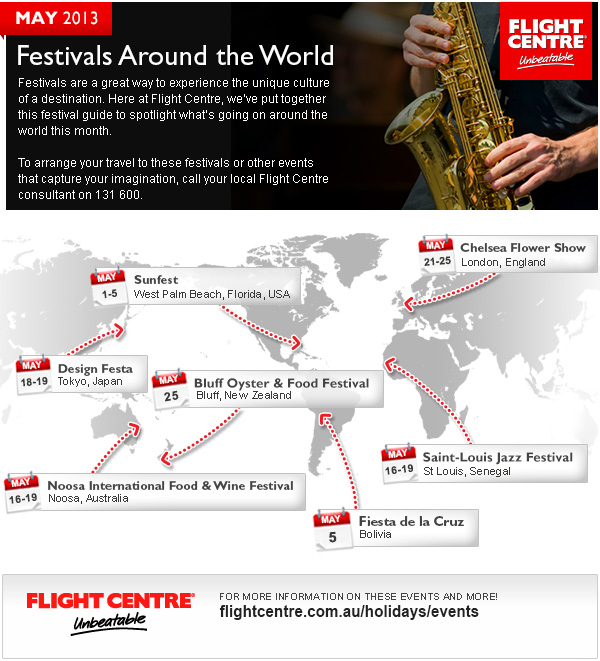 [Source: Flight Centre]