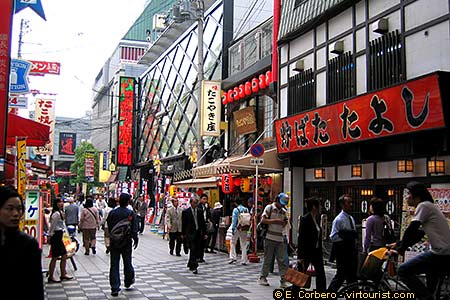 Shopping is often called the national pastime of Japan. Tokyo is the real hub for retail action in Japan, but should you find yourself looking for some worthwhile shopping in outlying Osaka, you will not be disappointed. The following is a list of top spots for shopping in Osaka that will please any great globe-trotting shopper.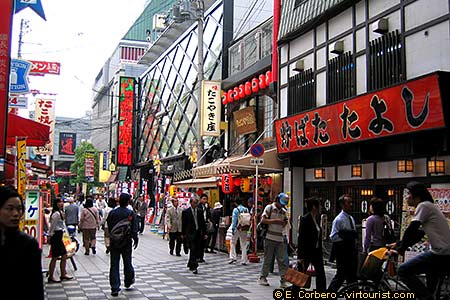 Shinsaibashi Suji is about 600 metres of covered shopping arcade that offers a variety of shopping experiences. Here you will find brand name chains, independent retailers, and restaurants of all sizes. Shinsaibashi intersects with Dotombori, which is famous for its neon lights, restaurants and amusement centres.
Amerika-mura is the place to go to take in Japan's cutting edge youth fashion scene. There are hundreds of small shops with inexpensive fashions. You can also find casual cafes, music stores, and novelty stores lining the narrow streets, many of which have a distinctly American influence (hence the name of the neighbourhood). Take a stroll, shop for clothes, or just have a coffee and do some people watching – you will likely see some of Japan's unique styles like gothic Lolitas and kawaii fashion.
The department store holds a special place in Japanese shopping culture. They are multi-level, shopping megaplexes that sell exclusive brands and luxury goods. Many popular department stores can be found on Midosuji Boulevard (conveniently close-by Shinsaibashi/Dotombori and Amerika-mura), with other popular stores at Namba Parks and the Kita district in Umeda (Hankyu, Hanshin, Daimaru and Isetan Mitsukoshi are some popular ones). Department store shopping can be expensive and the stores are often very busy on weekends, so be careful!
If you're looking for something specific there are a number of shopping areas that are dedicated to specialty items. Den Den Town is the place to go for electronics, gaming and anime shopping. Also not to be missed is Bic Camera in Namba, an electronics megastore. Matsuyamachi-suji is a unique shopping experience where a traveller can find wholesale dolls, toys, and dagashi (traditional treats and candies).  Doguya Suji is a shopping street where shoppers can find shops full of cooking tools and kitchen accessories.
A note on sizes: Clothing and shoe sizes in Japan differ greatly from European and North American sizes and are often much smaller. You may have to exercise patience trying to find items that fit, but many department stores and larger retailers carry a variety of sizes.