Travellers the world over know Melbourne as a central hub for culture and sophistication. It's the more mature and respected city out of the Sydney/Melbourne rivalry with Sydney taking the touristy-popular route, and the locals would have it no other way. If you happen to be out looking for a place to relax in and move at your own pace, taking the sights as they come to you, Melbourne is perfect for you.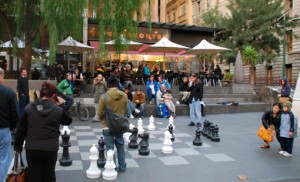 The first thing you should do when visiting Melbourne is to abandon your notions of public transportation or any sort of vehicle and just walk everywhere. It's a very walkable city with charming streets and districts that are just begging to be explored and gotten lost in. You can't go wrong in just picking a direction and walking as regardless of your plans, you'll find it opens onto a square where people are congregating and taking in all that the city has.
This is why you really need to get a place to stay right in the action and sites like Hostel Bookers can help you out, so long as you visit them in advance of your trip. While it's true that some seasons are a bit less congested than others, the popular hostels do book up fast and if you're the kind that really hates the shared dorm setting, it's best to not leave it to the last minute.
If you do find yourself tiring of the urban setting, most of the hostels you stay in can arrange for pick up to get outside of the city on an excursion to any number of the destinations in the countryside. Maybe a winery tour is up your alley? Perhaps you just want to see the rural world, a few animals and even enjoy the relative silence? You're never trapped in Melbourne!
Something everyone should check out at least once in their life is the incredible Great Ocean Road route, which goes from Melbourne to Adelaide along the coast of Southern Australia. It is here that you can see those incredible rock formations, the Twelve Apostles and London Bridge, worn away by the constant beating of the surf. Speaking of surf, after getting out of the city you'll be entering prime surfing territory, which depending on the time of year will either mean a fantastic sport to watch or an incredibly violent, beautiful beach.
Many people, if given the choice between Sydney and Melbourne, will choose Sydney as their Australia destination either because that's where their flight lands from overseas or because of the Opera House. While not to take anything away from Sydney – it's a great place in its own right – you'd be doing yourself and Australia as a whole a disservice if you came all the way down here and didn't see Melbourne. It's a city that really needs to be seen to be understood – even if by that point you'll never want to leave.