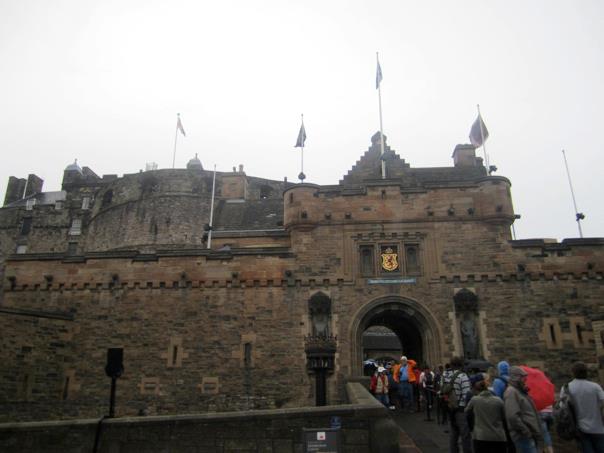 Edinburgh is certainly a city that knows how to drink. Any city that loves a good pint, and even has bars that open at 6am for the drunks still awake from the night before, will have contingencies for people nursing a dirty hangover. The Scots are on the right track for the hangover recovery. They employ strong coffee and big fry ups with heaping portions. Central to these fry ups is not shying away from the grease. A few places to go to shake off the cobwebs of a bad hangover include.
Snax – 118 Buccleuch Street, Newington 
First thing to hit is an extra large coffee, in a Styrofoam cup, here at Snax. Next check out the hand written menu on a chalk board that says options for breakfast: big breakfast, bigger breakfast, and the humongous biggest breakfast. These breakfasts come with Scottish favorites like black pudding, beans, and sausages. Enjoy the chatty style of the staff, mainly made up of backpackers from the hostel around the corner. You can listen to them talk about their big nights, to each other, as they prepare your food.
The Links – 4 Alvanley Terrace, Bruntsfield 
The Links is a hangover spot that appeals to the guys. They offer up cheap huge burgers and have big screens that show the weekends rugby and football matches. Sink yourself deep into one of the sofas, or perch yourself at a wooden table and start trying to figure out just what happened the night before.
56 North, 2-8 West Crosscauseway, Newington 
While perhaps the Links is more of a guys place to pull themselves together the 56 North caters to dealing with the girls. The interior is modern and stylish complete with comfy booths covered with big cushions and low seats to curl up in while you wait for your food to arrive. The food here is a touch more healthy than the famous Scottish fry ups.
The Penny Black, 17 W Register St
Well the truth is at the end of the day, if you can't beat them – join them. The last option is to chase down some hair of the dog drinks at the legendary and infamous Penny Black. This place opens at 6 am, to a line, that's more like a police line up, of the city's biggest drunks who have yet to go home. There's nothing pretty in here, but if you're chasing down fun in Edinburgh it is an experience to say you have had. Other backpackers will respect it.