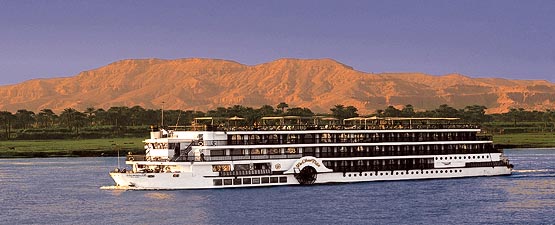 Egypt has captured the imagination of travellers for centuries. The pyramids showcase the splendour of the ancient world and the Nile has drawn travellers since Biblical times – but Egypt's appeal extends far beyond its most famous landmarks. Holidays to Egypt are a unique chance to experience one of the most diverse and beautiful environments on earth, as cruises up the Nile take visitors from bustling urban cityscapes to breathtaking natural vistas and the ruins of long-extinct civilisations.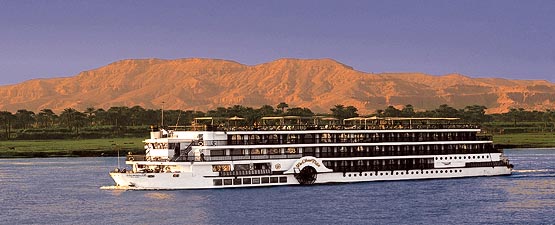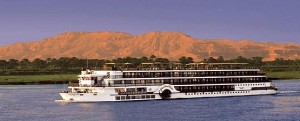 A Nile river cruise is an opportunity to experience the wonders of Egypt without worrying about the stress and pressure that accompanies modern travel. The river is vast and long and cruises pass some of its most spectacular sights, allowing guests to travel through Egypt in comfort and luxury.
Trips begin in Cairo, where the Nile delta branches down towards the Mediterranean. At Giza, the pyramids are only a short distance from the city and seeing firsthand the achievements of the pharaohs is unforgettable. Imposing, majestic and ancient, the allure of the Valley of the Kings, and the Sphinx is hard to resist – visitors can explore the archaeological site for hours and hours.
Beyond Giza, cruises travel further south into Egypt, stopping at the Temple of Hathor in Denedra, before moving on to Luxor which hides its own share of treasures. On either side of the Nile, temples to Egyptian gods dominate the landscape – with rows of imposing stone columns, towering obelisks and colossal statues of pharaohs.
As you sail the Nile, you'll see why it became a cradle for civilization through the ages. The river teems with life and you'll spot hundreds of species of flora and fauna as you wind your way towards your destinations. South of Luxor, tours reach Edfu, home to a Ptolemaic temple and dozens of archaeological curiosities, including statues of the falcon god, Horus and even the ruin of a lesser-known pyramid. Only a short distance away, another archaeological attraction, Kom Ombo, hosts the intriguing Temple of Sobek, Egypt's crocodile god.
Trips on the Nile eventually reach the city of Aswan: a bustling market and tourist centre – home to the beautiful Movenpick Hotel and a crowd-pleasing sound and light show. Aswan offers the chance to experience the Nile from a historical perspective by taking a trip on a 'Felucca ', a traditional fishing and transport vessel used by Nile sailors for thousands of years. Beyond Aswan is Lake Nasser – one of the largest man-made lakes in the world. It's a convergence of tourism, fishing and farming and is a perfect representation of how why Nile plays such an important part in Egypt's modern and historic identities.
This article was brought to you by the travel expert at Titan Travel, the river cruise specialists.