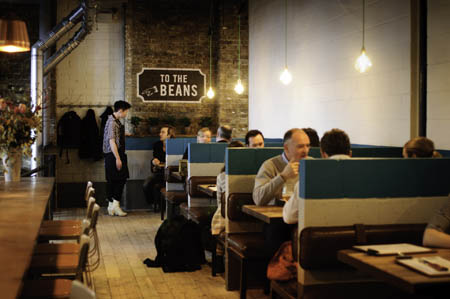 Every student and freelance "whatever" is looking for great places that they can sit and get some work done. The hope is that the coffee will be good, and not too expensive, the WIFI will work well, and there will be people in there… but not to the extent that you get distracted from working by eaves dropping, too much. Naturally a city like London has more than a few possibilities that offer that environment. The spots in London where work "almost" does itself are:
Horizon – Leytonstone
Horizon offers perhaps the best cappuccino in East London. A step away from Olympic park, and its hefty prices, Horizon offers great little cafe offerings like curried chicken sandwiches and cherry cheese cake at half the cost. Come in here and enjoy the great quality Hi-fi and the fantastic neighborhood feel.  Find this cafe by taking the central line to Leytonstone then walking straight up Church Lane to St George's cross.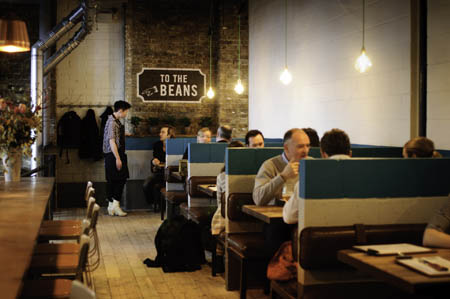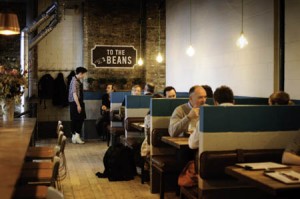 Ozone Coffee Roasters – Shoreditch
Right near the Universities present at Shoreditch the Ozone is a student's dream spot. Not only are patrons treated to a great variety of coffees but they also enjoy hot sandwiches and scrumptious eggs Benedict. Along the steel and cable chairs there are quiet corners that people could have impromptu work meetings as well as a full on conference area. To get here take the tube to Old Street, Moorgate, or Liverpool Street stations then walk down the narrow lanes till you reach Leonard Street.
Vida e Caffé – Soho
Vida e Caffe is situated in the compact confines of chic Soho, where there are no shortages of art galleries, bars, and boutiques. This cafe has a feel as if it could be situated in Lisbon or Barcelona as well. With seats inside and out, and a WIFI connection, you can drown yourself in continental style espressos while those deadlines inch closer and closer. To find this cafe take the tube to Oxford Circus or Piccadilly Circus then trek down to Regents Street to Golden Square.
Brass Mongoose – Blackfriars / The City
Brass Mongoose is a cafe that has a Spanish influence. Never crowded, there is plenty of space to sprawl yourself out at a table and grab a coffee, perhaps a cafe con leche served in a glass mug,  and a lovely pastry. Once you have the WIFI password you will be able to see and hear the rumble of double decker buses coming by as you work away at your tasks.  To find this place get off at Blackfriars Tube station then make your way New Bridge Street and continue walking that way towards Fleet Street.