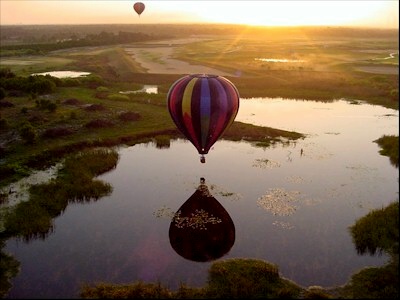 WORKING ABROAD
Working overseas may not be ideal for most people who do not want to get out of their comfort zones. However, for those brave at heart, working abroad is a fine opportunity. Working at a summer camp will open doors for you and once the fun begins, you will forget about your initial misgivings. There are numerous summer camps all over the world where you can enjoy working and having fun in some of the most premier resorts in the world. You will not only be getting paid for your services but you will be working in style.
TAKE A HOT AIR BALLOON RIDE
Fly over the land and enjoy a bird's eye view of the world below, you feel like you are watching a Google map only that it is so real an experience because you see the animals, famous landmarks and tiny people going on with their lives below. Get to choose the route of your choice and enjoy your ride. On a luxury safari, you get to enjoy personalized wildlife tours from above, before an exclusive dining experience right at the heart of the park: true style.
STAYCATIONS – TRAVEL IN THE UK
More and more people are opting to stay home for the holiday and enjoy the best of the UK destinations. It is not surprising though because there is no need to travel all over the world while you can have more fun closer home. Travel to the countryside for a holiday with the family and stay in log houses or experience the quirky accommodations such as windmills and light houses for your staycations travel experience.
GOLF HOLIDAYS
Travel to exotic destinations and enjoy your favorite game in luxurious resorts surrounded by bewildering beauty. There are great destinations where you can enjoy golf in style; from the beautiful golf courses in France to the famed Algarve courses the choices are numerous.
DO IT LIKE ROBINSON CRUSOE
Get away from every form of civilization and get isolated in your own island. There are numerous places and destinations throughout that sell or rent islands for those who want to take their time and get away from it all. The only difference between you and Crusoe is that you will be able to use boats or yachts whenever you wish and you could use your phones or the internet when you want.
FLY EN VOGUE
If you do not want to line up in the airports, sit next to crying babies in the plane or experience the discomfort of someone kicking your seat, then hire a private jet and all that will be behind you. Sit back and stretch your legs without the worries of crashing on someone's legs and sip on a glass of champagne as you pass the crowds.
HIRE A YACHT
You can rent a yacht and explore the sea in style with only those whom you care about.  Forget about the rough wooded interiors, damp conditions and other unpleasant things of travelling in public vessels; instead enjoy the luxurious furnishings of a yacht as you witness magnificent surroundings along your route. To make it even more plush, hire pampering staff to cater to your whims and desires. Hiring a yacht takes you to a destination of choice as you cruise the waters in style.