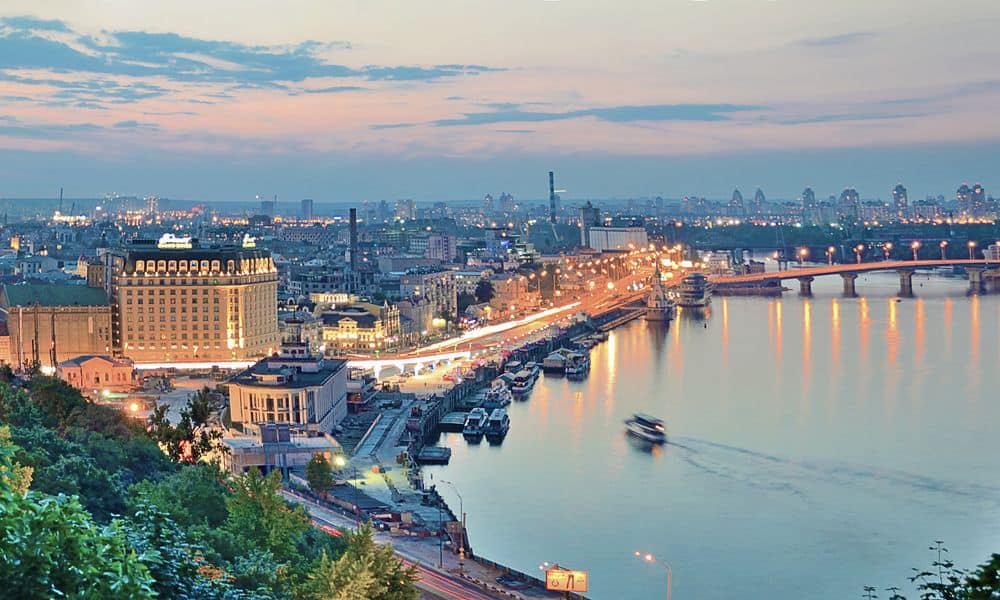 I. Airfare
I didn't buy a particularly cheap airline ticket because I was less than a month away from my departure time. I bought a 12-day ticket from Beijing to Kiev to Almaty, Kazakhstan on Air Astana (not a bad airline, which sends out candy and practical packs for air travel, and the meals are okay) for 3993 RMB. (Note: As long as you do not leave the airport is not required to Kazakhstan's transit visa, but be sure to pay attention to what you buy is a joint ticket, otherwise your luggage is required to go out of customs in order to extract, if it is a joint ticket your luggage will arrive directly from Beijing to Kiev, Ukraine, the possibility of losing luggage will not be so great. (If it is not a joint ticket will be very troublesome to need a transit visa or contact the airline for baggage transfer), Almaty's transfer area is very small, try to buy a shorter transfer time, I bought the transfer is an hour, so the time is just right.
Later in the U.S. met a small partner who said he bought 2000 degrees more round trip, anyway, buy early on the right. The actual fact that you are traveling for a long time, from Georgia or Turkey to Kiev is only about 400 RMB ~ or you are too lazy to brush your own tickets, you can add WeChat: UkraineToday or add WeChat xzsirui who promises to help buy cost-effective tickets and some transfer services.
(Note: Now only Borispol International Airport in Kiev can handle visa on arrival for Chinese citizens, so don't buy the wrong ticket!
II. Visa
From June 20 to September 30, Ukraine will have visa-on-arrival for Chinese citizens, so you can apply for visa-on-arrival at Borispol International Airport in Kiev as long as you arrive there before September 30. Visa-on-arrival time: 9:00am-18:00pm. Visa-on-arrival is valid for 15 days (be careful not to exceed the time limit when buying a return ticket).
1. The visa on arrival fee is US$103. Please prepare the change in advance, they are not change. Don't change your money in Beijing airport, as Beijing airport charges 60 RMB for each transaction, which is not cost-effective.
2. They will take photos on site, but please prepare two 2-inch white background ID photos in advance.
3. Return ticket itinerary. Be sure to (will not be false depends on you)
4. the whole hotel accommodation list. (I did not provide the whole, I only provided 2 days, will not be false depends on you, will not ask me)
5. insurance policy (some people did not check)
For more information, please do your own Baidu! For more information, please do your own Baidu! Detailed information on your own Baidu!
After getting off the plane, follow the troops to the customs place, this time you do not follow everyone to line up, that are local citizens or already have a visa talent queue place, this time you look for a small counter opposite, where there are three photo screen, here is to the Chinese for visa on arrival place. If there is no one at the counter at the time, you can approach the staff and explain your intentions. Then a staff will come out and give you a visa on arrival. The only thing you have to do besides paying is to fill out a form like this, both front and back. If you don't know how to fill it out, you can ask the staff to help you. I was the only Chinese person who processed the visa on arrival, and it was very fast. If you need invitation letter for your visa, you can go to https://visaexpress.com/russian-invitation-letter/
III. Money Exchange
In Ukraine, there is basically no UnionPay, and RMB cannot be exchanged. So you need to change your money in advance in US dollars or euros at home. (Do not change at the airport will have expensive fees). I changed my money in US dollars when it was 1 knife = 6.67 RMB. After you get your luggage, you can find a counter in the airport to exchange the local currency, the hryvnia. Kiev Airport exchange rate is 1 knife = 24.78 hryvnia. The exchange rate at this airport is still not as bad as you might think. I only exchanged 100 US dollars at that time. Believe me, 100 USD is enough to keep you alive for many days. Later I found out that
Kiev city exchange rate = Lviv city exchange rate (1:24.95) > Kiev airport exchange rate (1:24.78) > Odessa exchange rate (1:24.65)
In fact, the difference is not much when converted to RMB, so there is no need to waste time looking for a high exchange rate.
IV. Phone card and network
It is recommended to get a phone card in Ukraine, which is very cheap. Although the wireless coverage in Ukraine is extensive, it is not always available. Each city in Ukraine is very small, I basically walked throughout the whole process, and then the importance of navigation is reflected, no network no navigation offline maps will not be used, it is a very wise choice to buy a local phone card.
I was in Odessa in a shopping mall to do, you just see the red and white sign inside the sale of cell phones can buy phone cards, very very cheap. 70 gri (less than 20 yuan) 2G traffic plus how long talk time I forget, 90 gri (about 25 yuan) 5G traffic plus talk time. I bought the 70 gri package, and I ended up not using it up after 12 days of video chatting with my mom in Ukraine.
V. Local transportation
1. Train
In Ukraine, trains are very common, and there are also trains. The local trains are divided into first class, second class and third class. The third class is the cheapest. As long as it is a long distance journey, the third class seat is with a sleeper. I sat in the third class for the whole journey (but later I saw photos of others sitting in the first class, I regretted not experiencing one). The third class is similar to the domestic hard sleeper, but each person will be issued a very clean four-piece suit, which makes people very comfortable. The third class bunk is only the bunk and not the middle bunk. But if you are unlucky, the side of the store is very unpleasant. It's very narrow, and fat people can't sleep. And there is no guardrail, but as long as it is not this side of the bunk bed, the other side of the more satisfactory, the place to put the luggage is very wide, especially the lower bunk, you can pull up the bunk luggage in the locker under the bed, very safe and secure. However, people who are careful still try not to choose the third-class bunk it, there will be a little odor. And the second-class price difference will not be much
Now the main talk about buying train tickets!
There are two ways: 1, buy online. I recommend this method because you can't imagine how difficult it is to buy a train ticket at the counter in a country where you don't speak English. If you don't have a credit card, you can only buy a ticket at the counter. When you arrive at the ticket office, you can first find an English-speaking person in the queue and tell him what you need, and then ask him to buy it for you. Remember to bring your passport when you buy your ticket.
After you get your train ticket, arrive at the train station 40 minutes before the train leaves, and then look at the big screen in the waiting hall. It will say that your train is in the first few lanes. There is no fixed boarding time, you think it's almost time to find your carriage, take your ticket or online order to the staff to see directly on the train and OK. (The train ticket booked online is not necessary to change into a ticket at the train station, just print it out from your mailbox)
2. Buses
There are a lot of buses in Ukraine, but they are slightly expensive. And usually it takes a very long time. You can also buy tickets by asking the receptionist to book them online and print them out, or by going to the station and buying them yourself. (Online booking requires a credit card with VISA or MasterCard, just like the train).
3.blablacar
In Ukraine, there is an amazing software called blablacar, which is the equivalent of carpooling in China. The price is much cheaper and more comfortable than a bus, and the speed is faster than a bus. blablacar is a very good choice. You can ask your receptionist to make a reservation online for you, make sure you make a reliable one. Be sure to call and communicate with the owner when you are almost there, you may be let off the hook.
4. Taxi
It is not recommended to do cabs. Because the whole country's cab is a pit for tourists. Unless the front desk helps you to make an appointment with the cab is already agreed price will be a little more reasonable. If you take a taxi by yourself even if only 1 minute drive is 100 gerry start. Cabs here are rarely metered, no bargaining, no change. Basically, you can walk or take the bus to the place you want to go. So it is not recommended to take a taxi when you go out. Unless you are going to the airport and station, which is far away. You can make an appointment with the front desk in advance for a cab and they will help you negotiate a good price.
5. Bus
Public transportation in Ukraine is also very cheap, usually around 2~3 grips. But there is still no English, you need to find out in advance where the bus stops are.