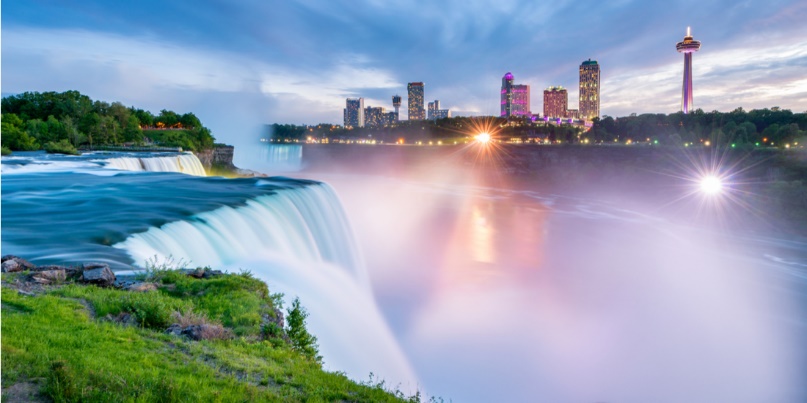 It's easy to see what makes Niagara Falls such a popular destination for tourists and honeymooners alike. The Falls themselves are among the natural world's most breathtaking attractions, and the area has a lot to offer culturally as well. Don't forget to visit some of the town's best restaurants while you're there. The eateries on this list range from cheap and cheerful to fine dining, so there's something for everyone.
1) Weinkeller
Weinkeller, which is named after the German word for "wine cellar," produces its own wines in-house. Enjoy one of Weinkeller's three red and three white wines, made on the premises. The restaurant is set in a brick-walled basement, for a real Old World feel, although you can enjoy a hidden garden patio in nice weather. Prix fixe menus are available, with three and five-course options. Dishes use local, seasonal ingredients. Entrees include dishes like pork loin, chicken, or Pacific salmon, served in your choice of ways; the menu is said to be vegetarian-friendly, as well.
While a pricier option, Weinkeller is popular for its trendy ambiance and friendly staff. Unlike many fine dining restaurants, portion sizes at Weinkeller are substantial, so come hungry. Weinkeller is open from 5:00 p.m. to 12:00 a.m. Sunday through Thursday, and 5:00 p.m. to 1:00 a.m. Friday and Saturday.
2) Flying Saucer Drive-In
On the other end of the spectrum, Flying Saucer Drive-In is an old-fashioned diner where locals stop in to eat breakfast. Prices are reasonable, and house specialties include the giant three-egg omelets, the steak and three eggs, and the Belgian waffles with blueberries. Enjoy your meal in a quirky, UFO-themed dining room; take-out is also available. The Flying Saucer Drive-In runs early bird specials on breakfast, and is open from 6:00 a.m. to 1:00 a.m. weekdays, and 6:00 a.m. to 2:00 a.m. weekends to help you satisfy those late-night bacon cravings.
3) Fallsview Buffet at Sheraton on the Falls
Looking for an affordable meal at a restaurant with great views of the Falls? Don't miss the Fallsview Buffet at Sheraton on the Falls. You don't have to be a guest in the hotel to enjoy this restaurant on the penthouse level, which offers gorgeous views of the falls as well as delicious food on its all-you-can-eat buffet. While the views aren't to be beat, the food is great too; reviewers recommend getting there right when the buffet opens for a seat with a good view of the falls. There's said to be a great selection of food options here, with good wine pours, too; visitors especially enjoy the antics of Dan, the singing chef.
The Fallsview Buffet is open for breakfast from 7:00 a.m. to 11:00 a.m., for lunch from 11:30 a.m. to 2:00 p.m., and for dinner from 5:00 p.m. to 10:00 p.m. Kids eat free, but adults pay $39.99.
4) Napoli Ristorante Pizzeria
Napoli Ristorante Pizzeria first opened its doors more than 30 years ago, so they must be doing something right. Napoli is widely considered the best Italian restaurant in the area, with hand-made pastas and pizzas and a warm, family-style ambiance. Enjoy authentic Italian fare at Napoli, including the delicious ricotta, parmigiano, and goat-cheese-stuffed ravioli; tagliatelle with goat cheese and Portobello mushrooms; spaghetti with fresh claims and shrimp; chicken supreme with roasted butternut squash stuffing; or breaded veal cutlet with parmigiano, mozzarella, and spaghetti and tomato sauce. Linger over a dish of gelato or a slice of cheesecake and a cup of Italian coffee. Napoli opens every day at 4:00 p.m.
5) The Tide and Vine Oyster House
If you love seafood, you'll love the Tide and Vine Oyster House. This wine bar and oyster house offers some of the freshest seafood in town, including perfectly shucked raw oysters, cooked oyster dishes, wild Gulf shrimp, and steamed mussels. Don't like seafood? No problem! The Tide and Vine also serves a limited number of non-seafood dishes, including braised beef short ribs. Every dish is made in-house, and the menu includes a wide selection of local wines and beers. Tide and Vine is open from 11:30 a.m. to 9:00 p.m. Monday through Thursday; 11:30 a.m. to 10:00 p.m. Friday; 12:00 p.m. to 10:00 p.m. Saturday; and 11:00 a.m. to 9:00 p.m. Sunday. Sunday brunch is served from 11:00 a.m. to 3:00 p.m.
No trip to Niagara Falls is complete without taking in some of the area's best restaurants. Whether you're looking for great views, a big meal, tasty locally-sourced dishes, great seafood, or local beers and wines, you'll find something to hit the spot in Niagara Falls.