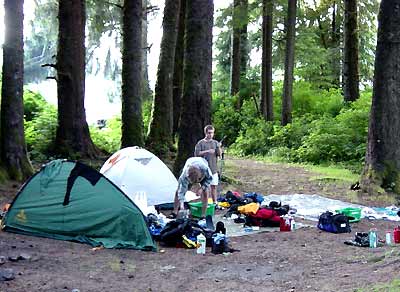 In countries all over the world camping has become a favourite way to vacation, particularly among city-dwellers looking to get away from the hustle and enjoy the beauty of nature. In Canada camping is especially revered as a national pastime for everyone from families to hardcore outdoorsmen. Across the country, Canadians head out to enjoy the multitude of national parks, scenic rivers and mountains whether it be for a week-long family vacation, a few days of hunting and fishing or a weekend to party with friends in the woods. Here are a few good choices for camping enthusiasts looking to camp out in the Canadian wilderness.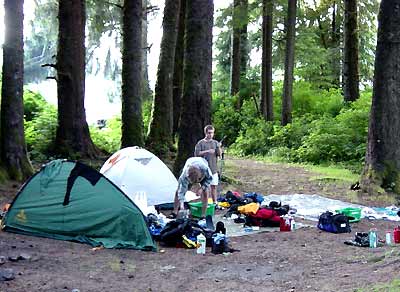 For the party camper: Most Canadian towns and cities have campgrounds of some variety, though in busier municipalities they are often lacking in scenery, nature and space. If you are looking to enjoy a long weekend in the bush with your friends and family, full of music, laughter and adult beverages, you're going to want to choose a location that is large enough to keep your revelry separate from that of other campers, scenic enough to be worth leaving town for, and preferably adult-only. One such campground is North Sauble Sands Campground, a shamelessly party-oriented place with no curfew on music and a 24 hour store stocked specifically for your late night snacking needs.
Back country camping is another option for those who would rather not be disturbed (or disturb others). Back country camping requires a higher level of skill and you won't find any running water or electricity. Think portaging and setting up tents in the well-worn campsites of campers who've gone before you. This type of camping is available in many of Canada's national parks. Alberta Parks, which facilitates the use of parks from the foothills of the Rocky Mountains to the dense Northern Albertan forests, allows back country camping and provides safety information and rules for people wishing to hike, cycle or portage their way through the wilderness. This type of camping is not recommended for the faint of heart. Other great parks to try include Algonquin Park in Ontario and the Canol Heritage Trail that stretches from the Yukon to Norman Wells, NWT.
If you're looking for a family friendly experience to take the kids for a relaxing week in the woods that's comfortable and entertaining, try one of the commercial camping sites that cater specifically to families with children. There are Yogi Bear Jellystone parks located in Ontario, New Brunswick and Nova Scotia that feature mini putt, playgrounds, sports and other activities. For a more adventurous family adventure, check out Newfoundland and Labrador's Gros Morne park, a UNESCO Heritage site that also offers educational and adventure activities for kids and families.
However you choose to camp, always be sure to respect the natural environment, fellow campers and leave no trace.