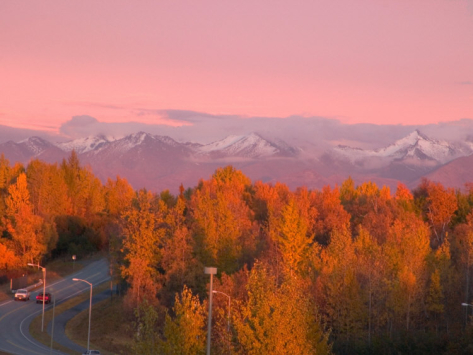 Alaska is one of the last great frontiers of America; a land covered in ice and wilderness that is as dangerous as it is enticing to travellers. Anchorage, the capital city of Alaska, offers visitors the chance to enjoy a cosmopolitan stay while exploring the amazing nearby wilderness that makes the state famous. Visitors to the city will have the chance to learn more about the original native inhabitants of the area at the Alaska Native Center as well as enjoying the great outdoors at Kincaid Park. The options for things to do are varied enough to suit all personality types. More things to do in Alaska include:
Alaska Native Heritage Center
8800 Heritage Center Drive | Anchorage
There have been many cultures that have thrived in the arctic wiles of Alaska. The Alaska Native Heritage Center showcases the original native inhabitants of the region and discusses their past customs and history while also celebrating their cultural milestones. Broken into three separate sections there is a gallery that displays native artifacts, a performance hall where old stories are retold – as was the native tradition – and fantastic dances are performed, and seven traditional dwellings which are built to represent the different lifestyles of the different native tribes of Alaska. The Alaska Native Center is to the northeast of downtown and is open in the summer from 9 am to 5pm. Admission is a little pricey at $25 dollars for adults, but visitors have given overwhelmingly positive reviews about their experience at the center.
Kincaid Park
Kincaird Park is the perfect retreat when visitors want a touch of nature without leaving Anchorage. Located in the southwest corner of the city and over ooking Cook Inlet this 1,500 acre park has loads of different hiking, cycling, and cross country skiing trails and lots of opportunity to see animals native to the region such as foxes, moose, and porcupines. Green spaces in the park make a perfect location for picnicking and throwing a ball around too. Kincaid Park is open each day from 10 am to 10 pm.
Alaska Aviation Museum
4721 Aircraft Drive | Anchorage AK
Aviation has always played a large role in the development of Alaska as previous to their being paved roads between many of the towns across Alaska there were landing strips. The Alaska Aviation Museum helps show this diverse history with exhibits that discuss the many careers of legendary bush pilots. While visiting the museum be sure to check out the storage hanger that has many of the different types of planes that were used over the years to fly in Alaska. Visitors can come to the museum from 9 am to 5 pm everyday in the summer and Wednesdays through Sunday in the winter with admission costing $10 dollars for adults.