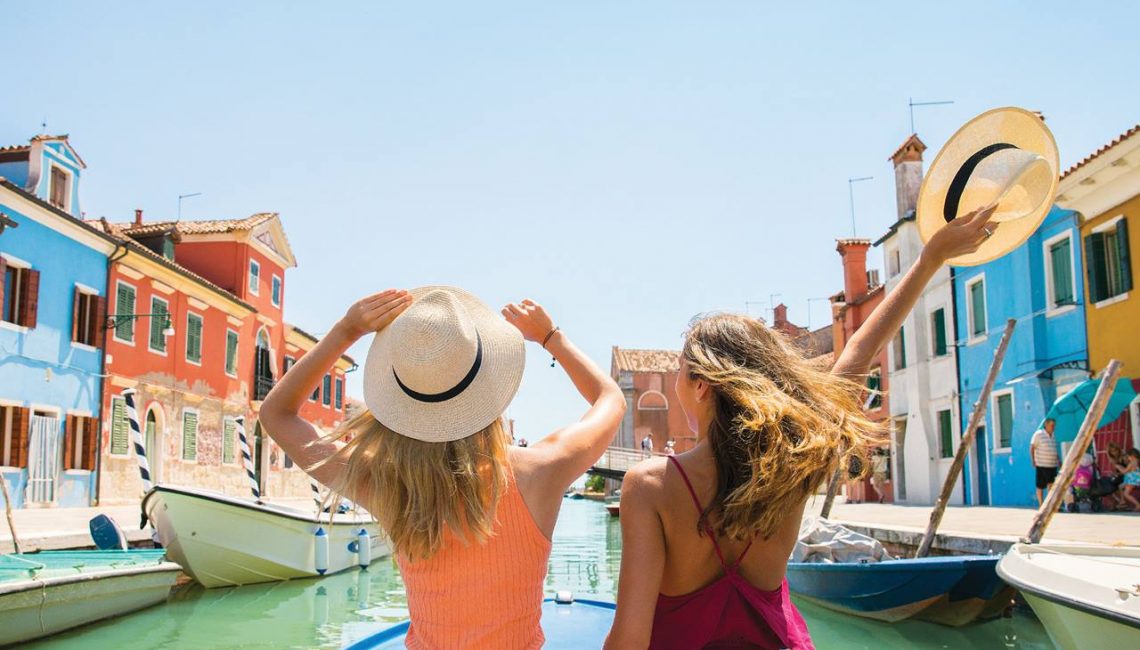 One of the best parts of a vacation can be how you get to the destination. Often we consider the actual traveling portion of our vacation to be the most tedious and boring aspect. We get irritated at the thought of congested traffic and long lines. We worry about our kids, or other peoples' kids becoming increasingly cranky and making everyone around them miserable. Whether you decide to vacation at a family resort or hit a popular theme park, getting there is half the fun and should be enjoyed thoroughly. We have curated a list of popular methods of travel and how to make them fun.
Cruise on Two Wheels
For couples or a gaggle of motorcycle-riding friends, traveling by motorcycle can be one of the more exhilarating parts of a vacation. To make this a memorable ride, always put safety first! Be sure you follow all motorcycle laws for each state you will be traveling in. A quick check-up on fluids and tire pressure should be in order as well. Plot your route and make sure friend and family are aware of your route, just in case. Choose a route that will be visually pleasing and comfortable for riding. Lots of folks love to ride through the Smoky Mountains on what is known as Blue Ridge Parkway because of the intense and gorgeous views of the mountains.
Take the Family Station Wagon
In the days of yore, it was common for families to pack up the station wagon for a road trip to see Grandma or the Grand Canyon. It's a desirable way to travel because of the cost efficiency and sense of freedom you have with driving. Of course, you will need to do some preparation for the trip that is similar to a motorcycle ride. Specifically focusing in on making sure your car is ready and a route is planned out. You can also opt for an AAA membership so that in the event you have a breakdown, you can get help to you right away. A few other suggestions:
• Have snacks in the car in case you get hungry
• Play car games
• Bring a portable DVD player for the passengers
• Pro tip: avoid movies and cartoons with sirens in them, the driver will get confused!
• Check a travel app for traffic information
Ride the Rails
Trains may seem like an inefficient way to travel but it's just one opportunity to add some adventure to your vacation! If you want to make it a blast try doing the following:
• Talk to the train staff, you can learn a lot about train travel through them
• Get up and explore the train
• Talk to other passengers, find out why they like train travel
• Get off at each rest stop and visit the gift shops
• Enjoy the view and take photos as often as you can
Traveling by train can truly be an experience that adds to your vacation when you stop and take time to connect with the surroundings.
Fly by the Seat of Your Pants
Flying can be one of the most efficient forms of travel when it comes down to time. We can get to our destination faster and spend more time at our destination than any other method of travel. However, it still comes with its own set of problems. To make flying more enjoyable try these:
• Dress so that you can get through the TSA faster
• Take what you need on your carry-on so that you can enjoy the flight (puzzle books, a bit of reading, some knitting, etc)
• Make sure to have some fun apps on your phone
• Enjoy local delicacies at the connecting airport, rather than anything you can find at home
• During the flight, journal about your destination and why you are going there
• If you have a window seat, enjoy the views and take photos when you can.
• Take a nap
Travel should be fun. The best part is, on the way home you can talk about all the cool things you did and what you plan to do the next time you are on vacation!