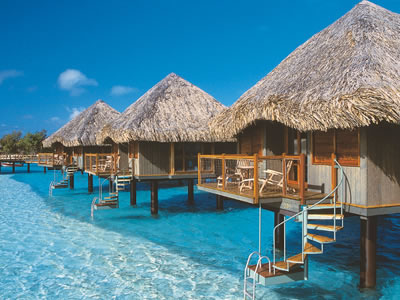 When most people plan to travel they save up money, draw up a budget and look for travel deals, seat sales and discounts to help them get the most out of their travel dollars. For a few privileged individuals, however, money is no object. This one's for you, rich people. Here are the top three spots to travel and spend lots and lots of money (in no particular order).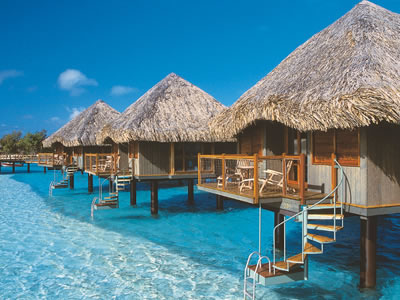 •    Le Meridien, Bora Bora – The luxury hotel chain has dug into some primo real estate on of the world's most beautiful and exclusive island destinations. If you don't already own a private island of your own, you can spend a night in a two bedroom beach villa for just under $1300 US. In addition to perfect Polynesian beaches and mountain views (only accessible by boat), you will enjoy daily maid service, five star dining and the satisfaction of knowing that you have the finest accommodations on the island. Be sure to charter a luxury yacht for an afternoon of sailing and snorkeling or spend an entire day in the spa receiving every treatment available.
•    Four Seasons George V, Paris – For approximately $2 357 per night you can relax in your suite overlooking the Avenue des Champs-Élysées, home to some of the world's most expensive real estate. You will probably want to spend the entire day shopping at the luxury boutiques along the avenue and have your face exfoliated with diamonds (a diamond facial runs for just over $550 at the Four Seasons spa).
•    If you're the sailing type, why not go full-on Titanic and book a cabin on the Queen Mary 2, Cunard's $800 million cruise ship. Starting at just under $4000, you can enjoy a luxury round-trip from New York to the Caribbean for a choice of 12, 19 or 26 days. Daily fresh flowers, fruit, butler, and a complimentary bottle of champagne at embarkation are par for the course with a top stateroom, but I find the personalized stationary to be a nice touch as well. There is also a planetarium on the ship, obviously. Caution: pillow chocolates may be solid gold.
If you can afford one of these vacations, you probably work hard enough to deserve it. So take a load off and make the most of the world's most luxurious destinations. And if you were born rich and you've been taking vacations like this your whole life without ever having to work, well… you're probably spoiled, but I wish you the very best.